Have you made readiness a priority?
Our Borzoi are completely reliant on us to protect them, before and after disaster strikes. Careful planning and preparation are the very best tools to safeguard our dogs as well as ourselves. Are you ready for the next disaster? Despite multiple horrific events in recent years, surprisingly few owners have taken the initiative to develop preparedness plans. To encourage owners to take the initiative, the Borzoi Club of America created Ready Borzoi as a one-stop resource to help owners to become informed and prepared for disaster and everyday emergencies.
Background: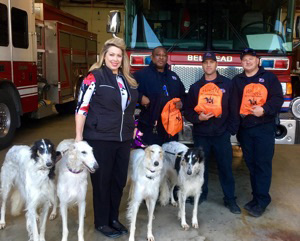 In August of 2005, hurricanes Katrina and Rita tragically illustrated the vulnerability of animals and their owners in a disaster situation. The event set into motion an unprecedented rescue and shelter effort of over 6,000 pets in a multi-state region. Thousands of animals perished or were permanently separated from their owners. Over 1,000 people died and a million more were displaced. Pet owners endangered themselves by not evacuating prior to the storm or by attempting to return to rescue pets. The world watched as inconsolable owners were forced by by an ill prepared system to evacuate without their animals. Despite the well-intentioned efforts of animal rescue organizations, many pets were lost in the system, never to be reunited with their rightful owners.
A positive response:
In response to this tragedy, the Federal government created the Pets Evacuation and Transportation Standards Act requiring states to include pets in their human disaster plans. (Read about this historic legislation on the Law & Governance page.)