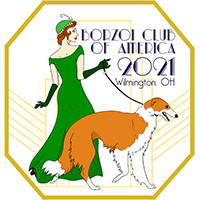 2021 BCOA "One Stop Shopping" Form
DEADLINE: May 5, 2021
This page is for sending funds only. Please send your entry forms, Specialty Sales form, Raffle Ticket forms and any other necessary paperwork, either by e-mail or snail mail (fax is temporarily unavailable), to:

NOTE: When you attend any event in Ohio, an event waiver needs to be signed and turned in at the event.
Please download the COVID-19 WAIVER HERE.
Barbara O'Neill, Show Secretary
11403 3rd Avenue S., Seattle, WA 98168
Home: 1-206-439-7543 – Cell: 1-206-669-9941 - national@borzoiclubofamerica.org
Click here for the Cash Raffle Tickets and here for the Stay Free Raffle Tickets
Click here to download the entry forms in the Forms and Downloads area
DO NOT USE YOUR BROWSER'S BACK BUTTON. Instead, click the Continue Shopping button in the shopping cart if you wish to go back and order more items